the sporting life
F1 at the 2023 Summer Break
Being mostly an exploration of alternate history, because, you know… there's that Verstappen kid.
The 2023 F1 season has seen a remarkable and unprecedented display of dominance and perfection in the form of one driver—Max Verstappen—and the team he drives for: Red Bull. The Red Bull cars are so good and so consistent that they would be solidly in contention even without the not-insubstantial driving prowess of their lead driver. Don't get me wrong, Checo Perez is no slouch, but he also has the unmistakably human traits of "having bad days," "letting pressure affect his driving," and "not being simpatico with certain tracks and driving conditions." Normal things, even for an elite-level athlete. Verstappen's 2023 campaign sees him surging out to 30-second-plus leads, blissfully unperturbed by the little things. His radio messages to the pit wall sometimes indicate he's watching the race with the rest of us, on the big screens put up trackside. He's contemplating his future.
So it goes. The car is in a league of its own and the driver is unflappable. Therefore, Red Bull have won every race. The two races Verstappen hasn't won his team-mate Perez picked up without too much hassle. One might be inclined to look at this season as a loss for fans of any other team—and in an objective sense, there's some truth to that. But if you're able to look past the Red Bull lockout at the top, there have been some really dramatic and exciting things going on in rest of the field. Taking a look at an alternate history where Verstappen is promoted into a Super League Of His Own along with the RB1 car, things get very exciting indeed.
Let's check in on that alternate universe. Modulo "fastest lap" points, here's how I calculate the field: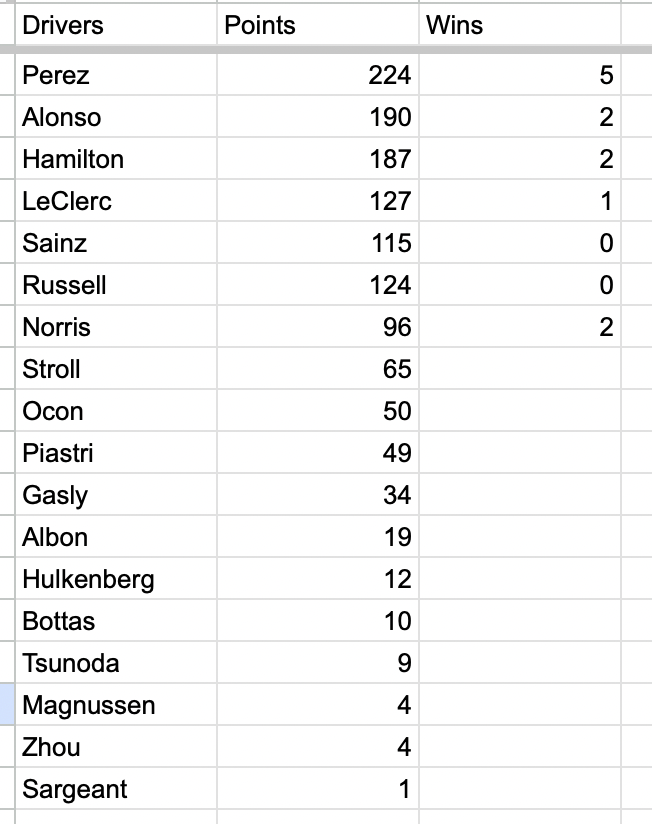 Yes, there's Checo in the RB2, leading the pack—but it's close. In fantasyland 2023, Perez burst out of the gate winning four of the first five (ceding Australia to Lewis Hamilton), but as the rest of the grid made adjustments and his consistency wobbled, contenders aplenty rushed in through the cracks, making life exciting. Five drivers have won races—and fans have gotten to see two show-stopping duels between old rivals Hamilton and Alonso in Australia (Hamilton pips Alonso down the stretch) and Canada (where Alonso gets the better of his old rival). In this world, Perez's victory in Spa to close the first half of the season stemmed the bleeding of a six-race stint where Red Bull ceded a lot of ground to the field.
The big storyline at the start of the year was the out-of-left-field resurgence of Aston Martin, one of the bottom-dwellers over last couple of years. They've put Alonso on the podium a bunch, particularly at the start of the year. Alonso is a former world champion and one of the wiliest racers on the grid, so it might not be too much of a surprise to see him scoring points. But podiums? That's genuinely exciting. And it's a team effort: Alonso's young teammate Lance Stroll is producing results well above expectation. In alternate 2023, they still faded down the first half stretch, but not before Alonso bagged two more victories.
Likewise, the storyline for the last month in both universes has been the unexpected surge of form from the Woking outfit at McLaren. In this alternative world, Norris surged from the occasional top-10 appearance to the podium in Austria and then ripped off two consecutive wins in Great Britain and Hungary before the disappointing outing in Belgium. His rookie teammate followed him up the standings, including a first podium. They've blitzed past rival Alpine team in both universes, but in alternate 2023 they have a pair of statement wins—while Alpine is looking up from the bottom of the top ten, searching for a second podium.
And hey, there's America's Own Logan Sargeant with a point!
Meanwhile, the other two teams that entered the season hoping to contend for race victories and the team championship—Mercedes and Ferrari—find themselves headed in opposite directions from their 2022 outing; the "vibe check" in alternate 2023 around both teams certainly feels different. Ferrari have still really struggled for any kind of consistency in alternate 2023—some things never change—but they have at least produced a victory in LeClerc's unexpected breakthrough in Austria. Meanwhile, Hamilton has notched a pair of victories and five other podium appearances—the picture of consistency in a non-dominating effort that sees him rapidly gaining on Perez and Alonso in the individual standings. Russell's year looks a little better—his mid-tier consistency combines with Hamilton's outright class to have Mercedes looking rather comfortable atop the constructor's championship.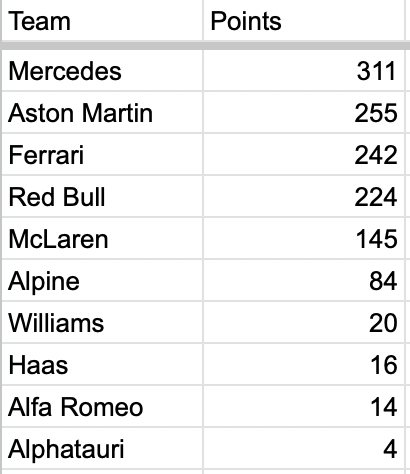 Mercedes aren't home free by a long shot, though. Aston could return to early season form, Ferrari could find consistency (ok, ok, I hear you… probably not), or even Red Bull could take over the 2nd half of the season. If their second driver (whoever that is in bizarro world—perhaps Ricciardo!) could ever score points, that is. Perez has Red Bull in 4th place in the constructor's chart by himself. No mean feat!
Alternate 2023 is an all-timer of a year so far. The thought experiment lets us see just how tight the competition is behind the absurd outlier who's already run away with both titles this year. While I, like I suspect so many of you, are experiencing some "absurd outlier" fatigue, I'm excited to see where alternate-universe 2023 goes.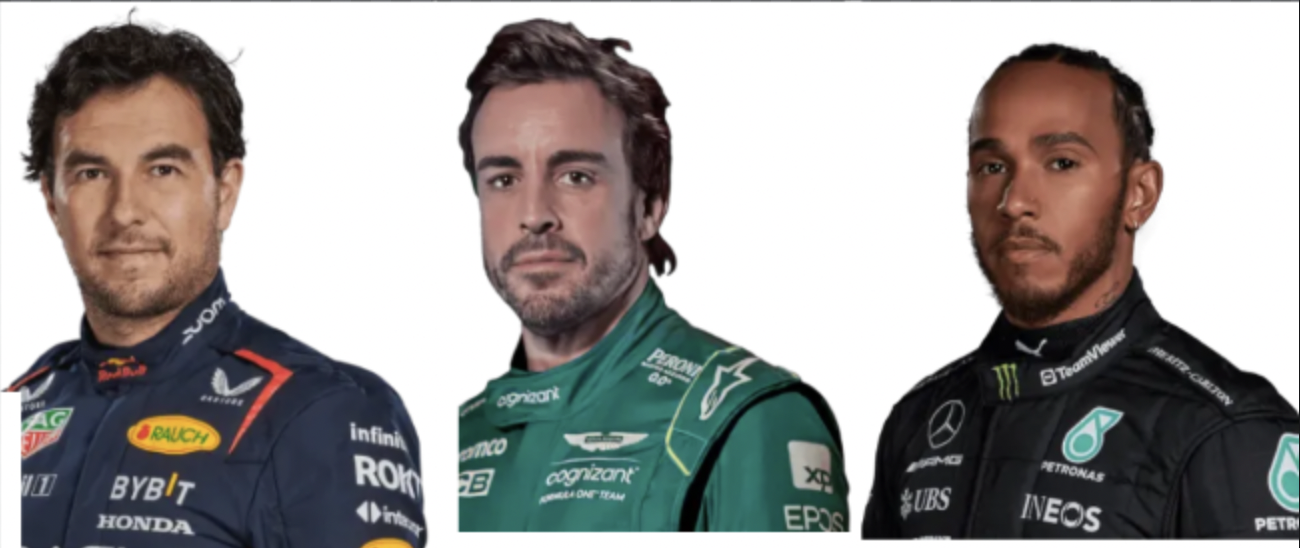 Here's hoping for a second half of the year—in our real world—that brings a little more chaos and drama to the top of the charts. If not, well... here's to the alternate universe!